The New Terran Republic is a faction that has a unique construction style, and drones.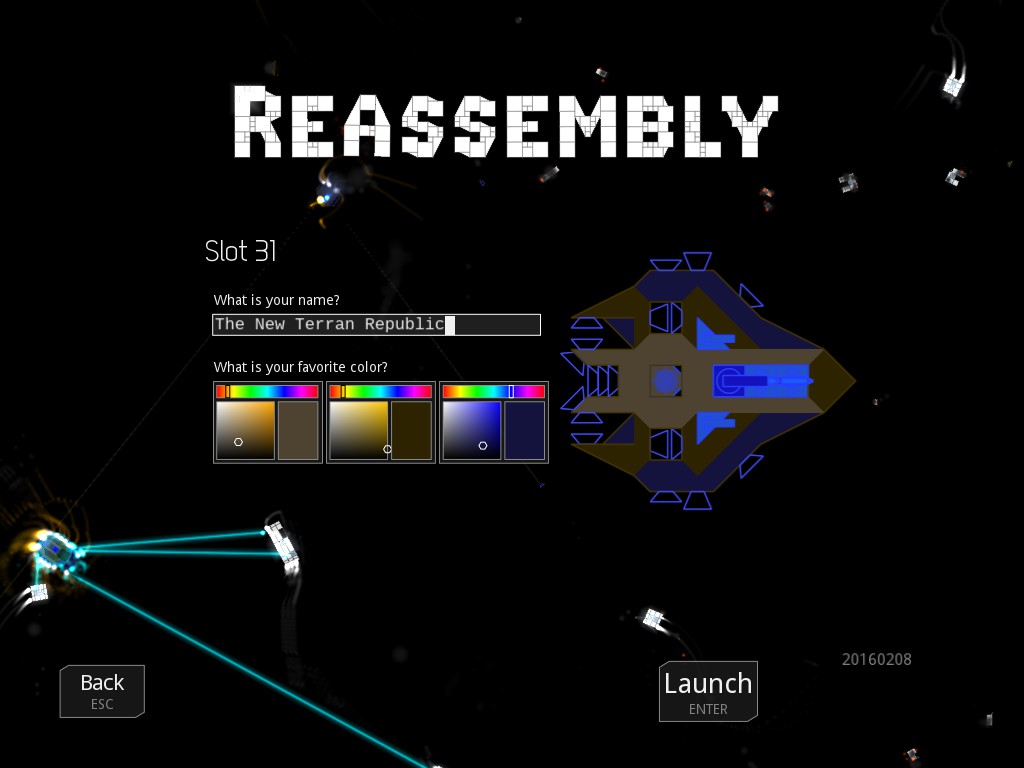 This mod includes:
- The New Terran Republic faction
- Heavy Armour
- Auxiliary Hull
- Small High capacity Shields
- Medium Rapidly recharging Shields
- Anti-Fighter Flak Cannon
- Anti-Missile Pulse Laser
- Anti-Fighter Missiles
- Interceptor Drones
- Fighter Drones
- Bomber Drones
- Evasive Cruse missiles
- Prismatic Gel Sprayers
- Hercules Boosters
- A Medium Pulse Laser
- A Charging Heavy Laser
- 2 Charging Railguns
- A Long Ranged Particle Beam
- 2 High-velocity Cannons
- A Long Ranged Artillery Cannon
- A Medium Ranged Assault Cannon
- X Series Modular Railgun: Includes 4 unique cannon boosters
Now that I've added most of the faction's blocks the next few updates will be focused on rebalancing blocks, fixing typos, and turning in bug reports. My ultimate goal is to have this mod balanced for competitive tournaments.
Update: Feb 10 @ 3:16pm
Fixed:
*Missing hull blocks

Added:
+ML-85-Loki, a medium laser that pulses rapidly 8 times before having to cool down
+Third faction color

Modified:
*Ion Drive now uses new thruster mechanics
*All Weapon/Thruster/Shield effects have been recolored
*Auxillary Hull blocks have been recolored
*Faction Colors have been fixed
*NTR Region has been reworked again.
*AFC-45-Flak Cannon fire rate, and explosion radius have been reduced
*AML-15-Pulsar is now the AML-15-Lightning Bolt
*CM-38-Ragnarok now uses new thruster mechanics
*BC-12-Harpe RPS has been reduced, and RPB has been increased
*Zeus and Hades weapons have been switched
*Strikecraft build peed and lifetime have been reduced, blocks have been recolored, and AI flags have been changed

Update: Dec 31, 2015 @ 7:46pm
Fixed:
*Missing hull blocks
*Prismatic Gel blocks not spawning
*Lore typos

Added:
+New starting ship
+5 Modular cannon components
+AP-56-Hammerhead, a low damage high velocity cannon
+HL-487-Hades, a rapid fire charging beam
+AC-240-Poseidon, a rapid fire mid ranged cannon
+AS-12-Harpe, a rapid fire high velocity cannon
+CM-38-Ragnarok, a powerful cruse missile that attempts to avoid enemy point defense
+STS-2400-Avenger, a cheep anti-fighter missile
+HC-3-Ajax, a small high capacity shield
+HR-402-Achilles, a medium rapid recharge shield
+Fuel-cells provide energy capacity and R storage
+Nuclear Reactor provides large amounts of energy, but slowly drain R reserves
+Hercules Boosters provide a momentary boost of thrust when activated

Modified:
*All ships have been redesigned, most from the ground up
*Factories slowly drain R reserves
*Renamed several blocks

Removed:
-Remaining place holder ships
-Improperly scaled hull blocks

Update: Sep 24 @ 11:18pm
Added:
+2 Stations
+8 surface structures
+A Custom Structure Launche
+A12-Thor, a long range spinal beam
+A09-Odin, a high powered artillery beam

Modified:
*Colony Pod auto plants when launched
*Solar Cell R production increased
*Increased Prismatic Gel durability
*Increased region size

Removed:
-The F8 Railgun
-2 place holder staions
-The place holder colony

Update: Aug 21 @ 10:05pm
Modified:
*I renamed the Bust Laser to the I15-Pulse_Defender
*I also modified the Proton Beam so it fires in high intensity pulses that chug energy
*The Mine Launcher's shape was changed to a RECT_LAUNCHER

Fixed:
*Finally I fixed the corruption problem by removing a broken ship

Update: Aug 14 @ 4:48pm
Added:
+4 Corvettes
+2 Civilian Ships
+A Shipyard
+Colony Structures
+Solar Panels
+Prismatic Gel Sprayer

Modified:
*Flak Cannon behaves more realistic
*New hulls for advanced drones
*Thrusters got a small buff

Fixed:
*Faction colors should work now

Removed:
-Fighter Hull Parts
-Several place holder ships

Update: Aug 7 @ 10:14am
Added:
+4 Frigates
+1 Cruiser
+1 Station

Modified:
*Minelayer now deploys a slow moving drone that drops mines
*Bust Laser nerfed and set to point defense
*Blast Pulsar the firing arc has been reduced and it has been set to point defense
*Advanced drones now use a weaker version of the Burst Laser
*Proton Beam now does slightly more damage
http://steamcommunity.com/sharedfiles/filedetails/?id=492719578